Gold
'Gold is a dirty business,
even if I do say so myself'
20 april 2019 Kasper Goethals
He is one of the richest people in Belgium, but many of his fellow countrymen have never heard of him. The Antwerp gold trader Alain Goetz has expanded his empire abroad, including to Uganda, but his success raises big questions. Belgian newspaper De Standaard went to gold mines where children work and saw documents that link Goetz to Congolese conflict gold.
A warm afternoon in November 2012. At the Hyatt Regency Hotel in Dubai, the Belgian gold trader Alain Goetz has a lunch date with the influential Ugandan businessman Barnabas Taremwa. The two discuss the creation of the first large gold refinery in Uganda. 'Goetz did not believe it was possible at that time,' says Taremwa via phone. 'But he came across as relaxed and summed up his conditions to still invest in such a project.'
The Belgian requests an exemption from taxes in Uganda for a period of at least ten years, a monopoly position for five years and a piece of land close to the airport in Entebbe. Taremwa, a brother-in-law of General Salim Saleh, who in turn is the brother of President Yoweri Museveni, believes Goetz's conditions are feasible. 'It can be done,' he says.
Then things progress rapidly. They find a piece of land, a stone's throw from the airport in Entebbe, near the president's official residence and directly opposite the United Nation's largest base in Africa. Goetz receives his tax exemption and in 2014 the construction of the 'African Gold Refinery' (AGR) starts. In a letter to Museveni from 17 March 2014, read by De Standaard, Goetz writes that the 'state-of-the-art refinery' could be operational within eight months. 'Uganda will be proud of this regional gold hub,' he says.
Following the Belgian's arrival, Ugandan gold exports increased by 105,000 percent in four years, from 11 kilograms to 11.6 tons. Figures from the Ugandan tax authorities, seen by Belgian newspaper De Standaard, show that in three and a half years, Goetz exported no less than 31.2 tons of gold, worth 1.15 billion euros. AGR expects production to increase by 30 percent this year
Buy gold?
The market of Mpondwe, on the Ugandan border with Congo. 'How much do you want?' Asks the man behind the counter. We are in a shop opposite the police station. The salesman is already on the phone. '10 grams? 100? A kilo?' He grins. 'It can be here within fifteen minutes, straight from the Congo, you can't get fresher than that.' On the street we hear an orchestra of buzzing noises and shouts, a familiar border soundtrack. Everyone wants to sell you something. The streets and squares are full of clucking poultry, trays of ripe mangos and bottles of palm oil. Hundreds of Congolese slowly shuffle across the border, via an Ebola screening tent. In the opposite direction, a caravan of trucks loaded with Chinese household appliances makes its way to the hungry markets of Central Africa. Youngsters on mopeds escape without checks past the whizzing batons of soldiers. The border with Congo is open. Nobody knows exactly what is going on. Nobody seems to have a plan to do anything about it.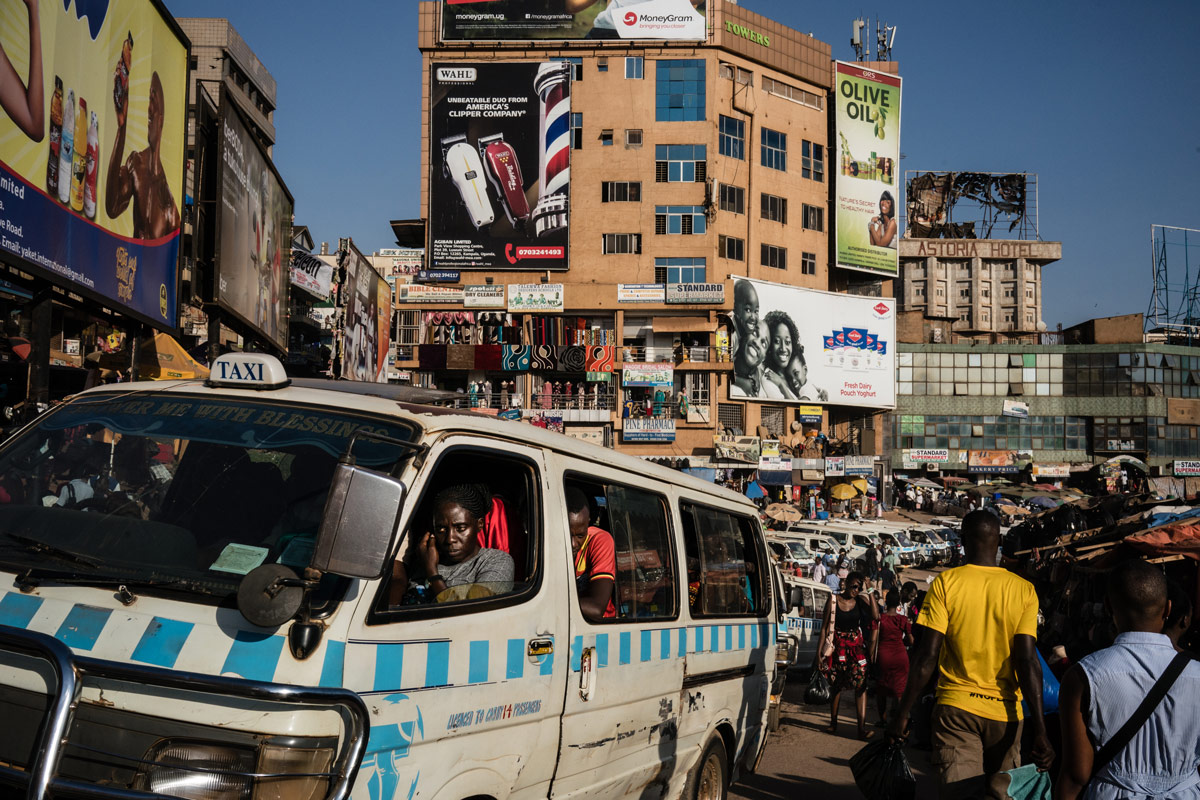 photo by Kristof Vadino
More than 90 percent of Congolese gold is smuggled to neighbouring countries. 'Most of it ends in Uganda,' says Kizza, a 54-year-old gold smuggler from Kasese, in western Uganda. On the condition of anonymity - Kizza is a pseudonym – he is willing to tell his story. For more than fifteen years he has controlled a small network between the Congolese city of Butembo and the Ugandan capital Kampala. Every week his drivers pass the border at the busy market of Mpondwe. 'We don't see this as something illegal,' says Kizza seriously. 'The gold trade has always gone this way.'
No trader pays the Congolese export taxes of 5 percent. Kizza and his colleagues deliver Congolese gold to intermediaries in Kampala, who smuggle it out of Africa via aeroplanes, to Dubai. For years this was the extent of the gold trade, but the arrival of the African Gold Refinery brought part of the trade above ground. 'Goetz consumes part of the market,' Kizza notes. AGR has received a mineral dealer's license from the Ugandan government and is able to legally export gold - the refinery boasts that it has 'reduced the smuggling by 70 percent'. But eight different sources with knowledge of the matter tell De Standaard that the import to Uganda is still largely illegal. Moreover, the authorities do not have reliable import figures.
Clooney filmscript
A two-day OECD conference in Paris, May 2017. Goetz tells acquaintances that he is surprised to find so few allies there. The Antwerp citizen sits in a panel on responsible gold mining in the Great Lakes region, but several attendees cannot believe their eyes when they see him. Their eyebrows are raised fully when Goetz admits, from the podium, that his company in Uganda also works with 'undocumented gold' from 'small-scale dealers'.
'We were shocked when we heard it,' said George Boden, a Global Witness researcher. 'You can't get away with something like that in 2017.' Experts saw Goetz's statement as a euphemism for smuggled gold from war zones. The international anti-corruption NGOs Global Witness and The Sentry both wrote extensive research reports. In them they link AGR to gold smuggling, corruption and conflict gold. An independent expert group from the UN Security Council is also strong in its criticism. In a 2018 report, the group cites two independent sources, linked to AGR, saying that the refinery is 'reluctant to disclose the names of their suppliers because they are aware that their activities are not always legal'.
AGR denies the allegations in the NGO reports. 'When I first started reading this report, I thought it must be Mr. George Clooney's latest movie script. It is a work of fiction', Goetz responded in a press release - Clooney is a major financier of The Sentry. The Antwerp citizen dismisses the criticism as a fabrication commissioned by criminal networks who want him to leave Uganda. He refers to Bullion Refinery Ltd., among others, who were unavailable for questions from De Standaard. The figures from the Ugandan tax authorities show that Bullion appeared from nowhere in September last year and began exporting similar quantities of gold to Dubai.
Two sources confirmed to De Standaard that the British-Indian Sameer Bhimji is the man behind Bullion. He could not be reached for comment. Gold trading in Uganda was sanctioned by the UN in 2006, but according to the UN Group of Experts, the Bhimjis and other Indian families in Kampala went underground and continued the trade. 'Those are the real criminals,' Goetz says about his competitors. 'I am a businessman with the Belgian nationality, I do not live in hiding and have children. Our refinery can be seen. We are working with the UN to make the gold trade cleaner and more transparent.' When asked about the origin of the gold, AGR says that they cannot disclose the precise identity of their suppliers 'without proper consent' because it would 'violate its relationship with its suppliers and other parties'. The AGR states that 'none of the gold comes from Congo'. However, in a recent reply to The Sentry, on October 4, 2018, AGR said exactly the opposite: '10% of the gold AGR handles' comes directly from 'mines in Tanzania, Kenya, Uganda, Rwanda and DRC'. In his March 2014 conditions letter, to President Yoweri Museveni, Goetz also requested that 'gold traders who do not have official documents should be allowed to sell gold to this refinery [AGR], but be made to pay a penalty fee e.g. $ 500.'
Cancer Label
Four people who met Alain Goetz individually describe him as a businessman to watch out for. 'He is an adventurer,' an acquaintance says laughing, sitting next to a luxurious hotel swimming pool of in Entebbe. In order not to damage his relationship with Goetz, the acquaintance prefers to remain anonymous. 'Alain did not come to Africa to save the world. He builds great businesses that are good for the economy and create jobs. But I have not been able to catch him exerting many scruples.' Today, Goetz and his family are at the head of a network of at least 15 companies with offices in Belgium, Luxembourg, the United Arab Emirates and Uganda. His personal fortune is estimated by the website Richest Belgians at 40 million euros, but it is suspected that in reality it is many times this amount.
For several years he has owned a villa at the edge of Dubai's artificial palm-shaped islands. In Belgian newspaper Het Laatste Nieuws, Dutch broker Jeroen van der Geer testified that he helped the gold trader buy his villa, the so called 'M State'. This villa is located on the most expensive piece of land ever sold in Dubai. On YouTube there is a video in which the building is displayed. It is a modern three-story palace with glass balconies and an infinity pool.
On March 12, De Standaard spoke to Goetz by phone during his vacation in the Maldives. With a thick Flemish accent, the gold magnate speaks frankly about his life and work in Africa. 'We are controversial in this: conflict gold does not exist,' he says. 'If a prospector is extorted somewhere in a conflict area in Congo by people walking around with weapons, then that person is in the most vulnerable situation of all people in the world. Instead of calling his product bad and putting this "cancer label" of conflict gold on it, the UN should rather encourage him, for example by giving that gold a better price.' Goetz says that all refineries in the world deal with 'so-called conflict gold' automatically. 'AGR is not more exposed than refineries in Switzerland or South Africa,' he adds.
In 2016, the UN Gold Expert Group identified gold as the main source of funding for weapons in the conflicts in Eastern Congo, which have killed an estimated 5.4 million people. There are 170 armed groups in eastern Congo, controlling 64 percent of all mines. Companies that consciously work with the militias can be sanctioned by the UN Security Council.
Ants in the mercury mine
An illegal gold mine in the town of Busia on the Ugandan-Kenyan border. Four boys - clearly younger than eighteen - are up to their knees in a trough of brown water. The water is full of mercury, the teenagers rub their eyes and faces with soaking wet hands. Mostly oblivious that the liquid metal is extremely toxic and can cause irreversible brain damage, especially amongst young people. Twenty meters away a huge hole lies like a crater in the earth. It is an unlicensed artisan gold mine. Dozens of boys, some of whom are minors, walk up and down like worker ants with heavy bags and wheelbarrows full of ore and stones. Everything is crushed into powder in a mill and sieved by the boys through tubs full of mercury.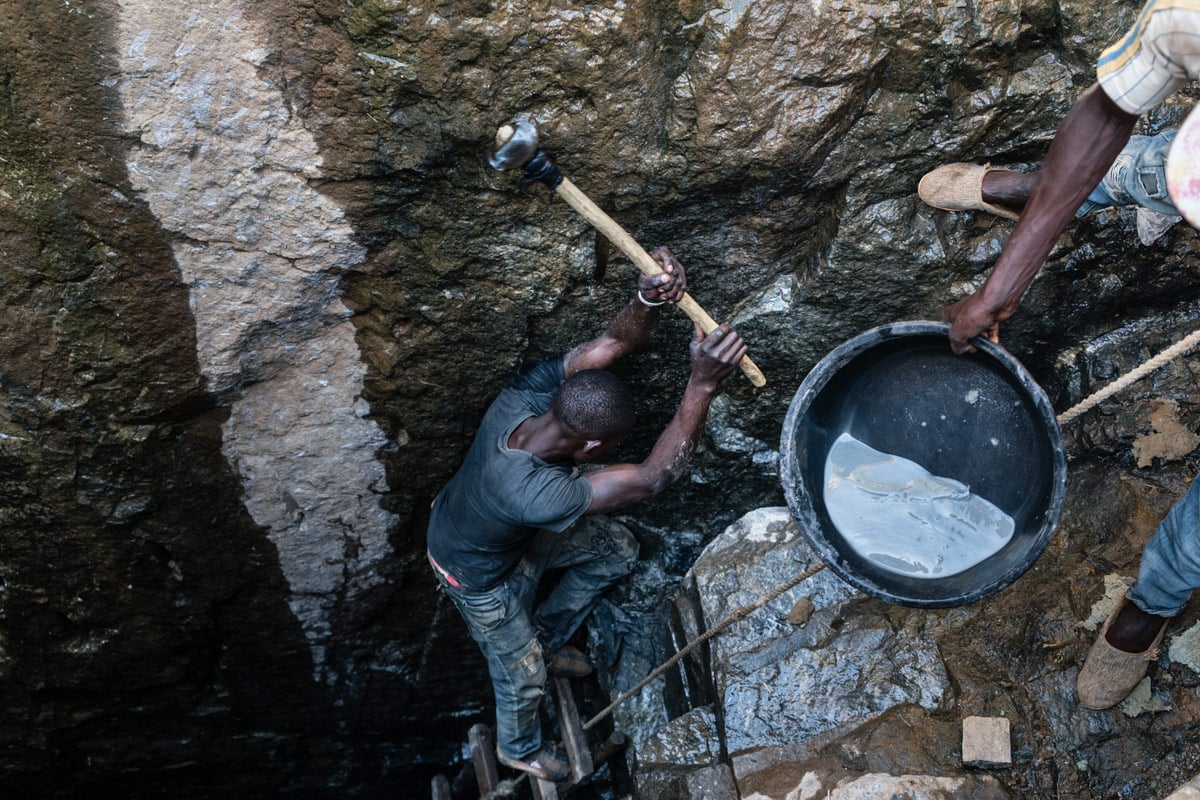 photo by Kristof Vadino
Gold trader Emmanuel Kibirige shows us around for two days. He has broad arms and knows everyone in the business. He shows us mines in Mubende and Busia. Along the way he lobbies for the legalization and regulation of artisanal mines. Kibirige hopes that mines will remain in Ugandan hands and act as an alternative to multinationals squeezing the region. None of the large pits that we visit have all the required permits. They are tolerated by the authorities in exchange for bribes. In Busia, a police officer spends the entire day at the mine. In the end he asks for money. We drive in jeeps and vans to deep shafts. They resemble places from Hollywood movies. The roads to them are flanked by towering molehills. Men with rolled up pants and bare feet look up while shovelling. 'You have whores and bars here, everything a miner needs,' says Kibirige with a sly smile.
'Of course, much of the gold from the artisan mines ends up in the African Gold Refinery,' says Kibirige in the car. 'That Belgian, this Mr Goetz, he exports millions of euros of gold to Dubai every week. Most of it comes from Congo, Tanzania and other countries, but the AGR also absorbs part of the national market.' Since 2010, Uganda has had its own gold rush. The national production quadrupled to more than 3 tons. In a report from a local miners' NGO, that will appear in May ), there is an upward estimate of 7 tons. In the Karamoja, Mubende and Busia regions, gold fever drove tens of thousands of children, men and women into the ground in search of the jackpot. The Dutch Research Foundation for Multinational Enterprises (SOMO) calculated that around 12,500 children work in the artisan gold mines of Uganda, accounting for 25 percent of all artisan miners.
We see hundreds of young Africans with muscular bare arms. They attack the earth in search of their own slice of the jackpot. The word is spoken with a mixture of awe and excitement here. 'Jackpot'. You may be rich tomorrow. Released from the shackles of global inequality in one fell swoop. Hundreds of women scour the waste heaps of multinational mining companies in search of a forgotten piece of ore. Patrick, a twenty-year-old boy with fine features, balances a pot of stones on his head, taken from the mine. Now he earns 10,000 Ugandan shillings per day (less than 2.5 euros). 'If I have enough, I want to become a taxi driver.' He dreams modestly, but at the bottom of the well, gold is literally fished out of the water. 'This ore is so rich, so so rich!' Kibirige crows. He holds the bucket in his hands, at the bottom lies a beautiful layer of gold dust. 'I love it,' he says excitedly.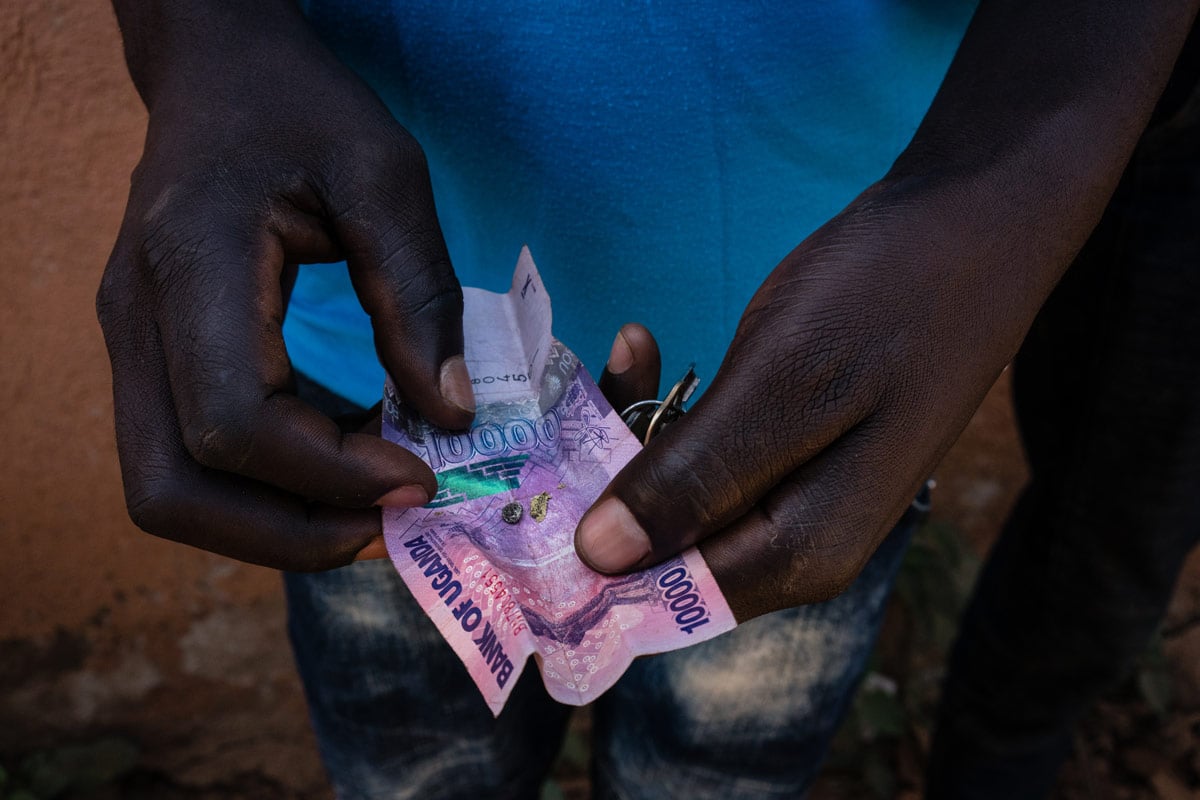 photo by Kristof Vadino
Alain Goetz said he also visited gold mines in the region. Rather than its role in conflicts, he is concerned about the high toll on people and nature. 'Have you ever seen an artisanal mine? Gold is a filthy business, even if I do say so myself.' When asked about his responsibility for child labour and large-scale environmental damage, he reacted irritably. 'That is the responsibility of the local government. I cannot change that; the local authorities must resolve that. We are the ones asking to improve the circumstances.'
Suspicious transactions
Monday morning, back in Kampala. The Ugandan capital is littered with the small offices of Indians who purchase gold. With its anarchist bustle, notoriously corrupt institutions and safe distance from regional conflicts, the city is the ideal hub for smuggled gold. Expats, rich children of ministers and sanctioned smugglers frequent the same clubs on Acacia Avenue on Saturdays. 'In Kampala not a week goes by without another naive European being ripped off after hoping to buy cheap conflict gold in Africa,' says Sydney Asubo, director of the anti-corruption watchdog Financial Intelligence Authority (FIA). We are in his office on the fourth floor of the Rwenzori Towers on Lumumba Avenue. Framed 5 billion Zimbabwean dollar bills hang on the wall. They are there to keep him focused. 'Every day they remind me of what government corruption can do', says Asubo. From behind his desk, the broad-shouldered forty-year-old studies hundreds of suspicious bank transactions. In 2017, his attention was drawn to the African Gold Refinery.
For an hour Asubo talks about his frustrations with AGR. 'For months they did not respond to our urgent requests. The refinery had quickly become one of the largest exporters in the country, but had not registered with us. However, for dealers in precious minerals this is mandatory.' AGR finally responded that it is 'not a trader' and merely 'provides a service' to customers who want to refine their own gold. 'Nonsense,' Asubo responds. 'AGR exports roughly 10 tons of gold per year, how is that different from trading?' The refinery only responded when the FIA had a bank account freeze after a suspicious $5 million transaction from Dubai. 'An Italian with three fake passports wanted to use the money to pay for a load of gold from Zimbabwe intended for AGR. That was smuggling', says Asubo.
Asubo tells De Standaard that AGR is being investigated by the Inspectorate of Government (IGG), Uganda's main anti-corruption body, for 'money laundering,' 'suspected tax evasion,' and 'other related crimes.' In a letter from October 2017 to the IGG, Asubo insists on prosecuting AGR for non-compliance with the FIA's registration procedure.
A year and a half after the first letter from Asubo, AGR has still not registered with the FIA. 'Failure to comply with our procedures is a crime in itself and can be prosecuted immediately, but the IGG says it wants to finish its major investigation into AGR first.' Sources in government refer to a speech by the Ugandan president at the ceremonial opening of AGR in 2017. Museveni then said that government agencies opposing the refinery would be 'tackled hard'. 'Goetz feels unassailable. And not without reason. He clearly has the protection of President Museveni himself', says investigative journalist Haggai Matsiko of the Ugandan monthly The Independent. 'Goetz has put a lot of money into its project (AGR says it has already invested $40 million, ed.). The president seems convinced that the refinery adds economic value by turning Entebbe and Kampala into a gold hub.'
AGR does not wish to disclose exactly how much profit has been made in recent years although experts estimate 55 to 110 million euros since 2015. AGR itself has indicated that it has paid the equivalent of 560,000 euros in taxes for that period - consisting mainly of taxes on the wages of around 70 employees. 'The story of Goetz is part of a bigger problem,' says George Boden of the anti-corruption NGO Global Witness. He researched the African Gold Refinery in 2017. In its consequential report Global Witness writes that senior political figures appear ultimately to call the shots. 'A small group of Belgian and Ugandan businessmen, with close ties to the President, were found to be shipping out hundreds of millions of dollars' worth of gold, apparently paying barely any taxes and failing to disclose the origins of the gold.'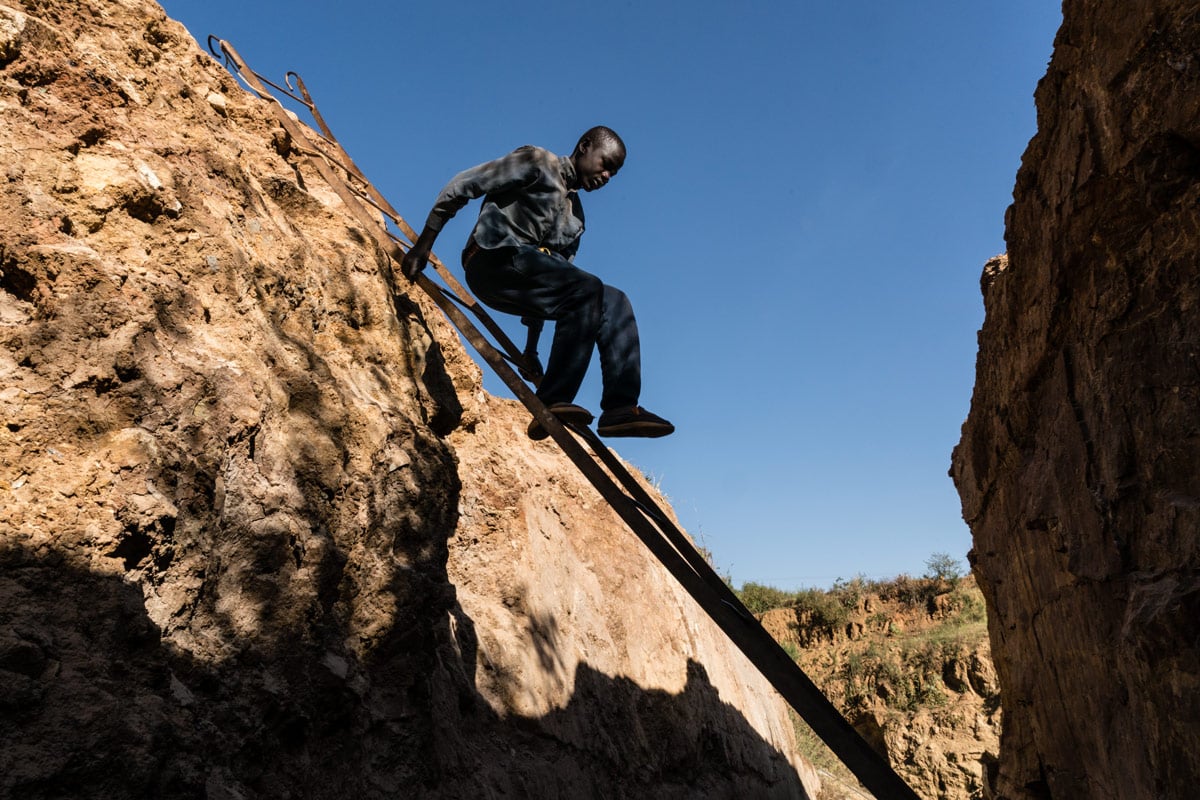 photo by Kristof Vadino
With Kabila in the jungle
It doesn't seem to bother Goetz. 'We've had some problems with that, what is it called, the Financial Intelligence Authority, but that has since been solved (Asubo says this is false, ed.).' On the phone, the Belgian tells us that he is fully withdrawing from Uganda. He says that he has already sold his shares in AGR to 'a family from the Middle East'. He says he will remain involved 'as a consultant' until the end of the year. His company in Dubai retains an exclusivity contract for the gold 'for a while'. However, our questions to AGR were still answered by the Goetz Gold Legal Service in Dubai.
De Standaard has also learned that Goetz is now working with the Rwandan government on a new refinery there. The Belgian responds that his role in Rwanda does not go beyond that of consultant, but Africa Confidential revealed that since mid-2017 Goetz has held a license to purchase large quantities of gold. Since 2014, gold exports to Rwanda have also increased by nearly 3,000 percent, from $7 to $214 million in 2017. Dubai became Rwanda's main gold trading partner and the Rwandan finance minister promises gold exports will amount to 1.6 billion a year by 2024. But just as in the case of Uganda, the gold comes from elsewhere. Rwanda barely produces its own gold (30 kilograms in 2016, according to Africa Confidential). In its article, Africa Confidential cites two sources that say that the gold comes from South Kivu, in eastern Congo.
On the phone, 54-year-old Goetz complains that the gold trade is no longer what it once was. 'That journalists like you are calling me now ... it used to be more fun.' In the past, Goetz refers to the tumultuous 90s on the Great Lakes. He came to live in the region with his father Tony in 1987. He spent fourteen years fighting his way to the top of the international gold industry, first in Burundi and then in Goma, in eastern Congo. Goetz told French newspaper, Le Monde that at the end of the 1980s he was once ripped off 'like a rookie', but he has learned from his mistakes. He demonstrated ambition and developed a thriving business in one of the most complex political environments in the world.
'Apparently I was the first white man to visit Laurent Kabila in the jungle,' Goetz explains on the phone. Kabila would have agreed to license Goetz and his Burundian company Affimet, in exchange for $500,000 paid in instalments, for gold from Eastern Congo. It was subsequently flown out of the country with Goetz's airline Congocom. 'We operated scheduled flights and we also had an interline agreement with Sabena, which transported passengers from Bujumbura and Goma to Kigali,' Goetz testified in 2002 to the Senate's Great Lakes parliamentary research committee. He said he did not engage in the arms trade. 'If soldiers did fly with us, they naturally had their weapons with them. But it didn't go beyond that. By the way, we didn't agree that they took those weapons, but we couldn't do much about it.'
Goetz thereby admits that he has supported Laurent Kabila's rebellion against President Mobutu, which was detrimental in the start of the bloody war in eastern Congo. Even without trading arms, Goetz knew that he supported an armed uprising. Kabila had not been elected or sworn in and therefore did not have a democratic mandate to dispense licenses on raw materials.
Goetz's role in the political upheaval cannot be underestimated. This is clear from a diplomatic cable sent on 2 April 1997, retrieved by De Standaard from the Wikileaks database. In it, the American ambassador lists the members of the incoming government of Laurent Kabila. Alain's father Tony Goetz is in the short list: 'Belgian citizen, finances Alliance of Democratic Forces [from Kabila] through the Affimet company,' it says.
De Standaard saw hundreds of pages of emails, letters and court documents. In Kampala and Entebbe we spoke with two former employees of the African Gold Refinery, five people who know Alain Goetz personally, four employees of government departments, independent lawyers, consultants in the gold sector and an important gold smuggler. We also spoke with various researchers from NGOs and universities, which unfortunately could not all be quoted. Journalists Olivia Kortas from Germany and Haggai Matsiko from Uganda contributed to this investigation. Alain Goetz and the African Gold Refinery responded quickly to our questions. Their answers were processed as much as possible in the article. AGR says it does not trade in conflict gold (and says there is no such thing as conflict gold). AGR indicates that it has already refused suspicious suppliers. 'It is not true that AGR and Mr. Goetz are involved in one way or another in the illegal smuggling of gold from Congo or another jurisdiction. AGR and Mr. Goetz are not involved in illegal activity of any kind,' AGR writes. AGR says it has exported 28.1 tons of gold since 2015, more than 3 tons less than the documents from the Ugandan tax authorities show us. Just like the information about the origin of gold, those figures are not in accordance with previous responses and communication from AGR. AGR refuses to share the identity of suppliers with De Standaard. The refinery says it is committed 'to share this data in accordance with the certification mechanism of the International Conference on the Great Lakes Region and OECD guidelines and procedures.' AGR says it has built in sufficient mechanisms to prevent child labor and human rights violations in its supply chain.